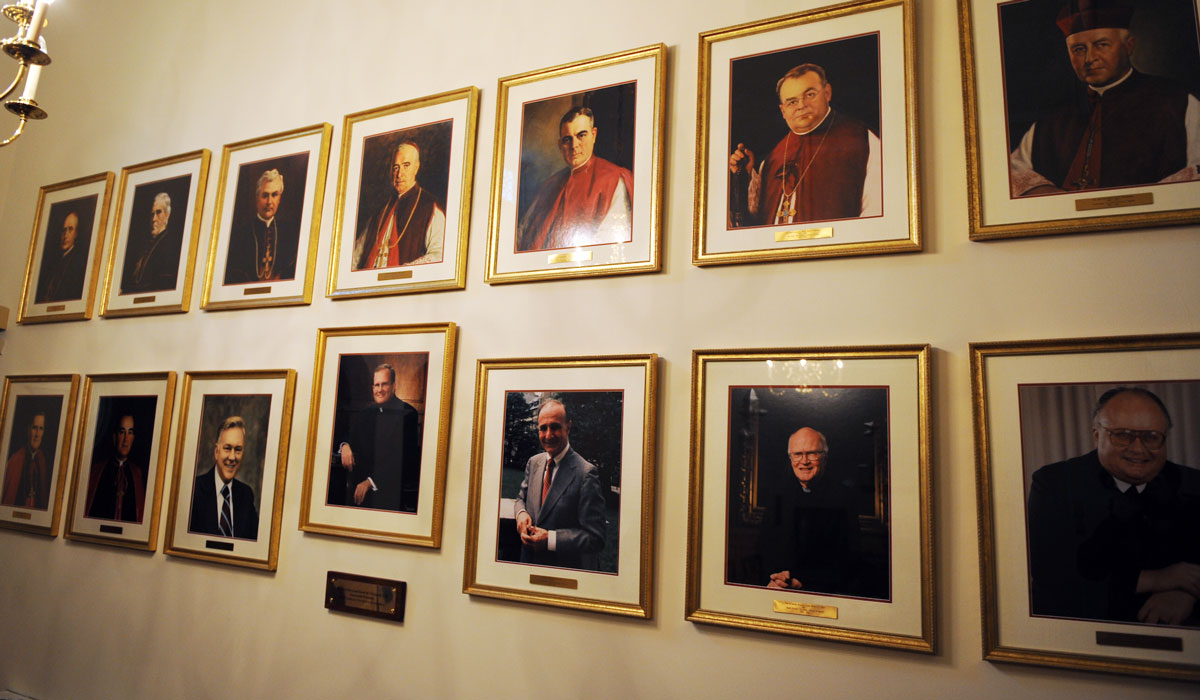 John Garvey is the 15th chief administrator of The Catholic University of America. The University's history of distinguished leaders began in 1887 when the head of the Diocese of Richmond, Va., Bishop John J. Keane, was chosen to be the first rector. Since then, 10 priests, one religious brother and three laymen have held the top post at Catholic University. 
Past Presidents/Rectors of The Catholic University of America


Bishop John J. Keane, 1887-1896
The bishop of Richmond, Va., was appointed rector as the new university was being established. Its first buildings - Caldwell, McMahon and Albert halls - were constructed and a library developed during his administration. A powerful orator, Keane often was quoted in newspapers.

Rev. Thomas J. Conaty, 1896-1903
He developed a relationship with the Society of St. Sulpice, which eventually founded the University's national seminary, Theological College. Prompted by the Spanish-American war, he supported academic accommodations for men who needed time away from their studies to serve in the military.

Rev. Denis J. O'Connell, 1903-1909
During O'Connell's tenure, Pope Pius X authorized an annual collection in U.S. dioceses that supports student financial aid. Undergraduate lay students were first admitted during his administration. Active in public life, O'Connell improved the university's image in Washington, D.C.

Rev. Thomas J. Shahan, 1909-1927
As rector, Shahan - an administrator and a scholarly writer - expanded the faculty, developed teacher training, increased student enrollment and built Gibbons and Maloney halls, a gym and Mullen Library. He promoted the creation of the National Shrine of the Immaculate Conception, where he is buried in the crypt.

Rev. James Hugh Ryan, 1928-1935
During his service as rector, the number of theology faculty increased, academic programs were reorganized, the university's constitution was revised and women were admitted for the first time. In 1935, he recommended that the Divisions of Nursing Education and Public Health Nursing be organized as one of the professional schools of the university.

Rev. Joseph M. Corrigan, 1936-1942
The 50th anniversary of the university's founding was marked and Curley Hall was built during his tenure. The rector was among five American Catholic leaders and a politician who condemned Nazi violence against Jews in a radio broadcast from the University on Nov. 16, 1938, three years before the United States entered WW II.

Rev. Patrick J. McCormick, 1943-1953
He originally came to the university in 1910 to teach and twice held the role of acting rector. Between the years 1905 and 1911, Msgr. McCormick received a Bachelor's degree, Licentiate in Sacred Theology, and a Ph.D. from the Catholic University of America. The first alumnus to hold the top leadership role, he ensured that the university responded to wartime needs.

Rev. Bryan J. McEntegart, 1953-1957
Much of his short administration was devoted to building projects, including Keane Hall and the National Shrine of the Immaculate Conception. His experience was in social work, having graduated with a master's degree in social work from the University. During his tenure the University gave an honorary degree to President Dwight D. Eisenhower.

Rev. William J. McDonald, 1957-1967
During his tenure, enrollment grew from 3,858 in his first year to 6,779 in his last. The growth reflected an increase in lay and undergraduate students. He carried out building projects identified by earlier rectors: McCort-Ward Hall for biology, Leahy Hall for the school of law, and student residences. The University first published the New Catholic Encyclopedia during his tenure.

Clarence C. Walton, 1969-1978
The former dean of general studies at Columbia University, he was the first lay person to lead the University. His 10-year presidency was committed to the worlds of academia, business and public service. The University built, renovated, or purchased a half-dozen campus buildings. Walton, an alumnus, was active in public and community affairs.

Edmund D. Pellegrino, 1978-1982
A medical doctor specializing in ethics, he was considered to be a founder of the field of bioethics and an early pioneer of teaching humanities in medical school. He was president during the historic visit of Pope John Paul II to campus in 1979. Library and information science was elevated to a school at the university during his tenure.

Rev. William J. Byron, S.J., 1982-1992
A Jesuit, he was the first member of a religious order to lead the University. He completed $51 million in construction projects, including expanding undergraduate university housing with Centennial Village, named for the university's 100th anniversary. He tripled the endowment and began fundraising to build a new law school.

Brother Patrick Ellis, F.S.C., 1992-1998
During the presidency of this alumnus (B.A. English, 1951), Catholic University introduced campus-wide computer technology, dedicated the Columbus School of Law's new facility, upgraded campus landscaping, and promoted university-sponsored community service programs to help the needy.

Rev. David M. O'Connell, C.M., 1998-2010
He strengthened the university's historic Catholic identity and character, grew the University's endowment and oversaw important campus improvements, including construction of the Edward J. Pryzbyla University Center. He purchased 49 acres west of Harewood Road for the university's future growth.